It's seriously crazy that we are already nearing the end of 2015.  I've been scouring the internet and brainstorming to come up with some ideas for what to do on New Year's Eve to make it really memorable for the kids.  We aren't the partying type, and every New Year's Eve we can be found just chilling out at home.  In the past, we've pretty much just played video games and stayed up till midnight, and that is about it for our festivities.  I keep seeing all these fun ideas though, and so I started to think that I need to plan something less lame for this year.  Anyone else?
So here is a little list of 15 of my favorite really awesome ideas that I have found.  We won't do all of these, but I figure that everyone is different, so there are an abundance of ideas to get the "party" started.  As a disclaimer, this is NOT going to be full of a ton of amazing food ideas.  I have no interest in spending hundreds of dollars on our family festivities, just doing some really fun and memorable things, adding in a fun pizza and chips and dip feast to the mix.  I want to focus our New Year's Eve on reminiscing over the past year's events and fun, and on preserving those memories, so you will find plenty of ideas that will help with that.  Plus a few fun extras of course.  Without further ado….
New Year's Eve Ideas to Preserve your 2015 Memories
Year in Review page by Skip to My Lou
What better way to finish up the year than to create an awesome year in review page on New Year's Eve!  This page looks really fun for the kids to record all the special things about themselves during 2015!  This page is actually a printable, but it is for 2014.  The idea, however, is great!!
2. If you like something a bit more graphic, how about something like this cutie from Oh, Hello Friend?  For the kids, you could block off some rectangles on their paper for them, and then help out by giving them either a title for each box for ideas, or maybe just a list of ideas you want them to include.
3. Or, if you are a scrapbooker like me, maybe something more along the lines of this template by Cindy Schneider at Sweet Shoppe?  It might be hard for the kids if they aren't already scrapbooking pros, but a lot of times I scrap with my kids right next to me giving me the info they want on the page.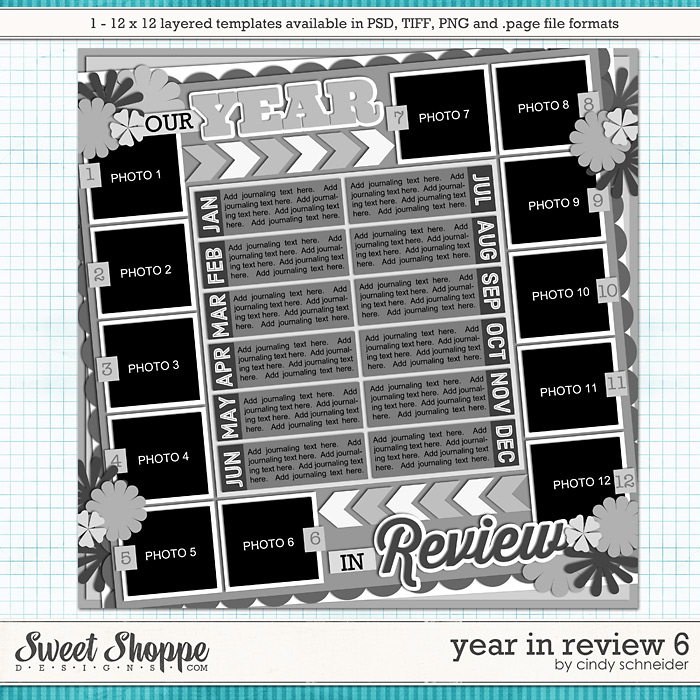 I did one year in review scrapbook page a while back without a template, just kind of threw everything on the page, but it worked and I love it.  My plan for this year is to have the kiddos each do their own year in review pages on New Year's Eve.  I'll give them a square piece of scrapbook paper (I don't have much of this as I'm not a paper scrapper, but I do have enough to get by).  I will have all kinds of goodies for them to stick on to decorate it with as well as fun pens!  And of course I'll do one too.  Then I will photograph or scan them into the computer because I like to have everything digitized.  No matter what method you choose, I think a year in review page of some kind is an awesome tradition to start doing each year.  There are so many things I wish I would have done when I was younger, and this is definitely one of them!!
4. New Year's Eve Shoebox Time Capsule from Premeditated Leftovers – this looks like such a fun idea!
5.  Printable Time Capsule pages from Home Grown Hearts Academy – This page has printables but also great directions and ideas for creating a time capsule any time.
Fun Activities and Games to do on New Year's Eve
6. Gold Glitter Slime!  Need I say more?  Fun at Home With Kids tells all about it.  She has the best recipe!
7.  Take Golden New Year's Eve Selfies and Photos!  My kids, well my girls mostly, are totally into taking selfies, and I'm totally obsessed with pictures in general, so this is a perfect activity for us.  I plan on hitting up the Dollar Tree to find all things sparkly, and then setting up an awesome photo booth.  I'm thinking golden wrapping paper, tinsel, golden tissue paper, whatever I can find!  Oh, and some balloons…  Here is a fun looking one from Apartment Therapy.
8. New Year's Eve Picture Memory game from No Time for Flashcards – this would be lots of fun, plus you could either save the game to play again later or take the photos and plop them in your time capsules afterwards.
9. Surprise bags from Brassy Apple!  This is probably my fave idea just because it brings lots of anticipation, plus you can use it to incorporate all of the other activities and ideas!  You just assign each activity a time and pop something in the bag to represent it and then hand the bags out at each specified time.  Some of the bags can have an activity, a game, or even just a little treat.  I'm in love with this one.  I'm trying to think if I want to do every 30 minutes or every hour though…
10. Surprise Balloons from Yahoo.  This is kind of an alternative to the bags – you blow up balloons and put a slip of paper in each stating the activity, then you write the time on the balloon and pop them when it's time!  I think it would be really fun.
11. New Year's Eve Noisemakers – cheap, easy, and fun for the kids.  My kind of craft.  Check them out at J-Man and Miller Bug.
12. Glittering Crowns from Ginger Lilly Tea – A great simple idea for the kids to make and then use in the photo booth later on!  Or this one from Best Friends for Frosting is beautiful too!!
New Year's Eve Treats and Food
13. Pizza Party!  We are making it a tradition to order pizza each year on New Year's Eve.  It is not something we do often at all, so it will be really anticipated for all of us!
14. Cotton Candy Mocktails from The TipToe Fairy.  These look super fun for the kids!  Sugar, 7 Up, cotton candy, and cups!  Yummy and fun.
15. Finally, chips and dips!!  How about some Jalapeno Popper Dip like this delish one from Spend With Pennies?   Or maybe some amazing Sausage Queso Dip?  Check that one out at Life With the Crusts Off.  They both look incredible.
Well, there you have it!  I think that there should be plenty of ideas here to get you started.  What I like about this list is that it is pretty doable, and not full of just a bunch of stuff to buy.  I will do a post after the fact with pictures and a rundown of what I do!
Are you planning to do a New Year's Eve bash just with your kids at home like me?  If so, what are you planning?  I'd love to hear it!