One of my favorite type of blog posts to read on other homeschooling moms' blogs is their curriculum picks for the year.  It's kind of the next best thing to having a close group of homeschool friends to discuss it with in person.  I especially love it when they give an overview of their choice for each subject, talk about why they chose that particular resource, and possibly even give a review of the items.  Since I think these types of posts are so interesting to read, I decided to go ahead and write one up for my kiddos, so this is the first of 5 for the 2016-17 homeschool year – my daughter's high school curriculum for her freshman year.
This year is going to be a LOT different for us.  We've been homeschooling for a long time, but this is the first year I'll be dealing with high school curriculum and all that it entails.  Credits, hours, transcripts, electives!  Fun, exciting, and a bit overwhelming all at the same time.  I'll give you a bit of background on my 9th grader, Jennah.  She actually is really similar to me in that we have some of the same strengths and weaknesses, likes and dislikes.  Language arts subjects including spelling, writing, and grammar come really easy to her.  She also absolutely LOVES to read.
Aside from that, she is really excited about pursuing some electives in high school to further her cooking, baking, and homemaking skills.  Like her mother, she's not a huge fan of math, science, or history.  I'm a fan of history now, but in school I thought it couldn't be more boring.  I think if I had to give one reason I'm most excited about homeschooling high school, it would be all the options that come along with high school curriculum as far as choosing things that interest you.
My goals for Jennah for the year is to provide science, history, and math classes for her that will up the interest level a bit.  I'm not trying to make her love something she hates, but here's the thing.  When I was in school I loathed these 3 subjects.  Thought they were pure torture.  Aside from a few exceptions in science class, no public school class I ever took made me think they were even mildly interesting.  It seemed like they must have purposely chosen the most boring high school curriculum there was.
As I took college courses, and even more so the older I've gotten, I've started to really see that these subjects are in fact fascinating and can be enjoyed.  It is just how they were presented.  So, then, my goal is to present them better for her!  Aside from that goal, I want to allow her plenty of time to pursue her own interests and goals which basically means letting the girl cook and bake to her heart's content.  I'm kind of excited too because I never learned to can, and that is something we'll learn together this coming year.
Our 9th Grade High School Curriculum
Now that I've successfully rambled for a good half an hour … I'll get to the point of this post!  Our curriculum choices.  To keep this post from turning into a novel, I'm not going to go into a ton of detail about each item, and I can't give reviews for most because most will be new to us this year, but I'll definitely fill you in on why I'm choosing them and what particular things I think will help to meet Jennah's goals this freshman homeschool year.
American History
The Choice:  Dave Raymond's American History from Compass Classroom

I'm super excited about this one!  Let me tell you a funny story though.  I have been Ms. Can't-make-up-her-mind when it comes to history this year.  First we were going to use Sonlight which we love, but then I was really looking at My Father's World for a while, then back to Sonlight we went because we just love all the reading – totally Jennah's thing.  She still hasn't really gotten very interested in the history side of it. though.  It's just meh for her.  I don't know exactly how I heard about Dave Raymond's class, but I never really looked into it until I got an email with a deal to try a course on Compass Learning or a bundle for $1 for the first month.  That got my attention LOL.
After signing up for the trial, I was pretty much immediately hooked after watching just a few video segments from Dave's lessons.  He has a knack for making it interesting!  Being a person who finds it very challenging to learn from dry textbooks, this was a breath of fresh air.   The course  has both video segments as well as a printable textbook, and there are a handful of project assignments as well as a weekly portfolio project that looks super fun.  I have a really good feeling about it and think it will make history a lot less burdensome and hopefully even a little fun for my freshman student this year.  I'll let you know how it goes.
Science
The Choice:  Mapping the Body with Art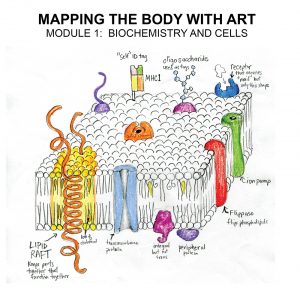 Here's another subject where my mind was changed several times.  I had found the amazing Schoolhouse Teachers subscription service that includes tons of free courses for subscribers, and they have a great biology course that we were planning on using.  Then, though, I got an email update from one of my fave homeschool blogs sharing the news that Ellen McHenry's Basement Workshop was having a great deal on Mapping the Body with Art.  I had never even heard of this!  Of course, off I went to check it out and was hooked.  This looks right up Jennah's alley!  The concept is learning the material via drawing it rather than, again, reading dry textbooks.  I think it's just what Jennah needs for her high school curriculum for science.  I'm super thrilled about this one and plan on doing it along with Jennah.  The only downside is it is only a semester, so we'll have to choose something else for 2nd semester.  No problem on that since I love my curriculum shopping!
Math
For math this year, I've decided to have Jennah try out UnLock Math Algebra 1.  We've tried and used SO many different math curricula over the years, and Jennah in all honesty has not enjoyed any of it.   Programs with textbooks and lots of practice problems are daunting to her, but programs like Teaching Textbooks seem to move a little more slowly through the lesson material than she would like.  I was going to go with Teaching Textbooks because even though it's not her favorite, it's a standby and I know it works well overall.  Fortunately for her, I saw something about UnLock math which is an online video curriculum that I hadn't heard of before.
I've really been checking it out as far as reviews and details, and it looks like it will be great for her.  The only downside for us is price as I'm signing up 2 kids, so even with the second student discount, it's going to be a hefty investment.  It will be totally worth it if she loves it though.  Honestly, even if she just likes it better than other things we've tried, I'll be pleased with the program.  Most of the online math programs I've found to be good were missing high school curriculum, but this one focuses on it!
Language Arts
This is probably the subject I've went back and forth the most on this year.   Writing based?  Literature based?  Something else entirely?  I decided in the end that since this is Jennah's freshman year, and she is already going to be challenged a lot through most of her subjects and just the intensity of the year, we should stick with something I know she loves – reading.  That doesn't mean it's going to be a cake walk.
I decided on the high school curriculum from Sharon Watson – Illuminating Literature.    I'm SO excited for this program!  I've actually started reading the first novel included too.  I love that Sharon includes free samples of the curriculum – the first novel study is available for free as well as the novel notebook.  It's a great program, and I think that Jennah is not only going to love it, but also going to really be challenged by it.
We are also adding in a few other things to round this out for a full freshman high school curriculum for language arts.  We will be using WordUp which is awesome because it comes in the same mega homeschool bundle I'm using from Compass Learning along with our American History course.  We'll also be doing some current events work using the teen edition of God's World News as well as bits and pieces of the Public Speaking course over at Schoolhouse Teachers (which is free with their monthly subscription plan).  Since the Sharon Watson literature is actually supposed to be a full credit high school curriculum, I'll just have to play it by ear to see how much additional work we have time for.
Spanish
This one'll be short and sweet because in all honesty, I don't know a lot about it yet.  It's totally new to us.  We will be using Middlebury Interactive Spanish through the Homeschool Buyers Co-Op.  By the way, if you aren't part of the Co-Op, I would definitely recommend it.  They always have great deals.  I always check there before making my purchases to see if they have the curriculum I'm planning to buy.  Anyway, back to the Spanish high school curriculum.  We are planning to use the level 1 high school curriculum for Jennah this year.  I will post updates on this as well as all our other products after we've been using it for a while and get a feel of how it is working.
Home Economics
Home ec is by far the course Jennah is most excited about this year.  For the most part, I'm going to be throwing this course together on my own, but I will be adding in a few books.  Our main textbook for this course is going to be A Girl's Guide to Home Skills.  I grabbed it on Amazon.  We are planning to make this a 1 credit course by spending 1 hour per day on the work.  Jennah will be spending most of that time cooking and learning cooking techniques.  She wants ultimately to focus on baking, but this first year we are doing more of a foundational program so she can gain skills in all areas of cooking.
This is one thing I really wish I would have had in high school because when I was on my own, I had no clue how to cook anything besides boxed macaroni.  It was pretty amazing LOL.  I want to give her that head start, and it's great because she really wants to do it.  I'm toying with the idea of posting our weekly lessons here on the blog for others to use, but I know I've kind of been there done that with other things in the past, and I didn't follow through because I guess I was a bit too busy.  We will see.  🙂
Physical Education
PE is something I'm really excited about!  Jennah maybe not so much.  She loves to dance, and she takes twice weekly dance lessons, so that will count for a large portion of her weekly gym time.  To make up the rest of her PE time, she will be doing daily 15 minute workouts.  We are going to make it fun and go with different YouTube workouts this year for her high school curriculum.  We will be changing it up with different videos each week, but I will be choosing a focus for each day: Arms, abs, legs, cardio, etc.
I didn't mention this when talking about home ec, but the way I'll be giving Jennah her assignments is through a private Facebook group I've created just for she and I.  I'll have a weekly file for each course I need to give instructions and links for.  I thought that was very conducive to having lots of external links to workout videos as well as to recipes for the home ec course.  It will also serve as a printable record of her progress as I'm going to have her check in each day in the group to verify she's completed each assignment.
Bible
Jennah's high school Bible curriculum is going to be pretty varied this year.  There are going to be 4 main aspects of the course to earn her credit this year:  Bible reading, Devo, Veritas Bible curriculum, and online Bible studies from rightnow.org.
She will do daily Bible reading using the SOAP method.  We will follow different online Bible studies for this, or if she prefers, she can read whichever book she'd like.  If you'd like to see some good options for online Bible studies, I have a post on that here to check out with several of my faves.
For teen devotions, I got her the Teen to Teen 365-day devotional.  We haven't tried this before, so we'll see.  It looks awesome.
Veritas Bible is definitely not high school curriculum, but my kids started this last year and absolutely love it.  It is the best Bible curriculum we've found up till now.  When I told Jennah I wasn't planning on having her do it again this year, she definitely had something to say.  Ultimately I decided that it's totally great for her to do even though it's geared for younger kids.  This is an online Bible program that is really fun and keeps the kids' attention.
Lastly, Jennah will be going through some of the many Bible studies at rightnow.org.  These are awesome, and I am going to do some of them myself as well.  It is such a great resource.  The lessons vary depending on the author, but most seem to be somewhere between 5 and 30 minutes, so I figure she'll do 1 a day, so it'll probably average out to about 15 mins a day over the course of the year.
Geography
Phew, this list is getting long, huh?  Well, we're almost done.  I was originally going to use Mapping the World by Heart this year, but after reading reviews, I came across Mapping the World With Art which seems much more up our alley.  It can be ordered in print or as a download, and you can also buy corresponding DVDs to watch the teacher draw the maps.  We are going to try it without the DVDs for money purposes to start, but I don't know, we might get them down the road.  We are planning to just do 1 lesson a week on this, so it'll probably work out to about a 1/4 credit this year.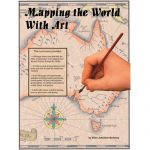 MUSIC
Lastly, we have music.  Jennah is going to be doing piano and voice this year for a total of 0.5 credits.  She is honestly not super into her piano lessons at this point, but it's something I don't want to give up on yet.  I think she's kind of in the middle where she struggles because she can't yet play the music she wants to.  We are using The Online Piano and Violin Tutor on YouTube at this point.  This lady is great and has curriculum to purchase which is what we did.
We are also going to do voice lessons.  We want to try out the Ken Tamplin Vocal Academy which I was introduced to on YouTube, but it's not in the budget at the moment, so we will be starting with some YouTube vocal videos just to get into the right thinking mode and develop a bit of skill, then we will move on to the Ken Tamplin course.  I'd honestly prefer if we could hire a vocal coach in person as well as piano teacher, but alas that is not an option for us right now.  I'd rather do that once I knew Jennah was serious about it anyway.
Well, that's a wrap!
Thanks so much for checking out my post.  Like I said, I really love seeing other homeschool moms' choices for curriculum, and right now I'm especially interested in high school curriculum.  I hope that this post was helpful to you in some tiny way.
If you are homeschooling a freshman this year, what were your choices?  If you did a blog post about it, I'd love to see a link the comments for me to go check out.  🙂